This month in Julie's Medicine Cabinet, our founder details what she's currently coveting. From her go-to olive oil to the digestive enzyme she can't live without, and her always-on-hand eye drops, Julie's discoveries are the products you need and never knew you needed.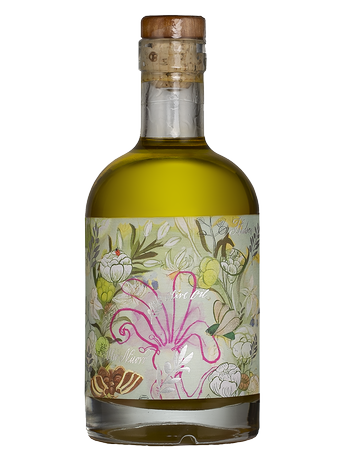 Hudson Ranch 2022 Olio Nuovo

This olive oil is Julie's favorite and she's been waiting to share it since the harvest has just been released. "It's fresh, complex, and has such an incredible flavor profile- famous for its intense grassy flavors and spicy finish. This olive oil is so exquisite, don't bother making it into a salad dressing. It's something that you use liberally as a finishing oil or serve to dip your bread into. It is incredibly delicious and is truly one of my favorites. It sells out fast, so act quickly. I ordered a few bottles to gift friends."
Enzymedica Digest Gold

Julie doesn't usually take a digestive enzyme. She believes we should teach our bodies how to process and digest foods. But she makes an exception for the holidays when she's more indulgent. "This one is very effective and helps break down protein, fat, and carbs from a heavy meal. I took a bottle with me on a recent trip to Paris because who am I to resist croissant or a cheese plate? We should live our lives and have fun this season. Cultivating happiness and being with friends is good for our mental health; we should embrace that and enjoy ourselves. So when it comes to diet, let's not sweat it."

Similasan Complete Eye Relief

Since Julie's eyes are very sensitive, she is a big fan of eye drops. Similasan Complete Eye Relief is made with homeopathic potencies of Belladonna and Mercurius, which is great for dryness, redness, and irritation. It also has the homeopathic version of Eyebright, a key ingredient in our Vis Clair Suprême Eye Cream. "Full transparency: I'm a bit obsessed with eye drops. It is important to keep our eyes hydrated, especially if you spend a lot of time on airplanes and in cities with poor air quality. This is something I always have with me to keep my eyes moist and to prevent that grittiness and drying sensation. It's an incredible form of protection."

Discover